Ship's name signs
Time to pay attention to your ship or yacht?
Ship's name signs are the jewel!
At WeBo, the ship's name plates are made with a great deal of craftsmanship through years of experience!
There is a choice of various types of wood, models, sizes, fonts and font colors. You can also choose to have the letters gilded in gold leaf. On our page "quote request" you can make an example with various board models, fonts and colors to get an idea of ​​what your nameplate will look like.
Types of wood
You can choose from various types of wood, below the 3 most used:
Teak is a beautiful sustainable wood with a lively appearance (at extra cost).
Mahogany is a "red" type of wood with a calm appearance.
Oak is a strong and hard wood, light in color.
Afrormosia is a wood with a warm golden brown color.
Most nameplates are made from teak, because this is a very durable type of wood that will last for years. Mahogany and oak are also great options for a beautiful nameplate.
Finish ship nameplate
For the finish you can choose to order your ship's name plate unpainted or completely finished with 2-component paint from us.
You can choose from high gloss lacquer and satin gloss lacquer, below the properties of these 3 lacquer types.
High gloss, has a radiant and reflective finish. Is less sensitive to weather influences than satin. High gloss is easy to clean, which in turn benefits the life of the paint.
Satin gloss, is also known as satin paint. Not as glossy as high gloss, but certainly not matte. Satin gloss gives a warm appearance.
Matt lacquer
Letters
For the letters there is a choice of standard colors of white, black and gold, but it is also possible to have the letters plated with gold leaf. All RAL colors are optionally available.
Click here to request a quote without obligation.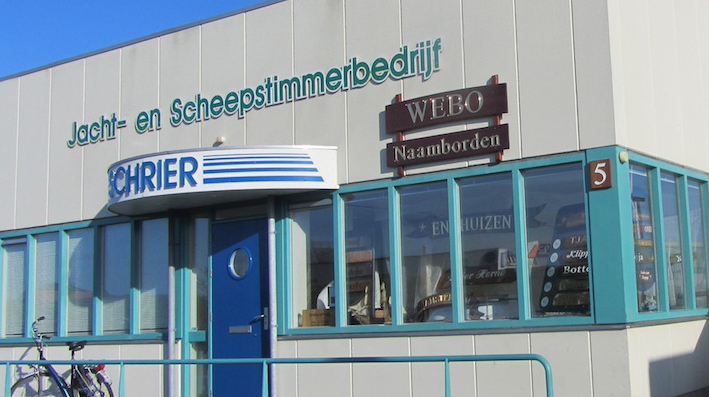 Boarding your ship?
We have been specialized in boarding ships for professional and pleasure craft for over 50 years. Visit the website of Jacht- en Scheepstimmerbedrijf Schrier for photos and more information.
-Ship's name signs-